"Bags and shoes I'd never seen on real people shouted Prada! Armani! Versace! from every surface. I had heard from a friend of a friend- an editorial asssistant at Chic magazine- that every now and then the accessories get to meet their makers in those very elevators, a touching reunion where Miuccia, Giorgio, or Donatella can once again admire their summer '02 stilettos or their spring couture teardrop bag in person. I knew things were changing for me- I just wasn't sure it was for the better."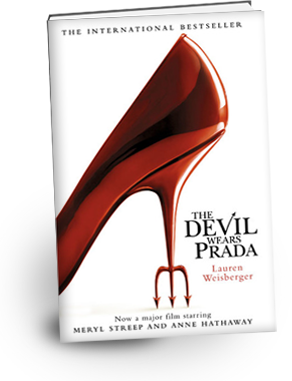 R
ecently out of college, Andrea Sachs has always dreamed of writing for The New Yorker. But you didn't just start writing for such a prestigious magazine the minute you graduated from college. As Andy looks around for a job, she lands a position as one of two assistants to the editor-in-chief of Runway, Miranda Priestly.
"Since I'd never seen so much as a picture of Miranda Priestly, I was shocked to see how skinny she was. The hand she held out was small-boned, feminine, soft. She had to turn her head upward to look me in the eye, although she did not stand to greet me. Her expertly dyed blond hair was pulled back in a chic knot, deliberately loose enough to look casual but still supremely neat, and while she did not smile, she did not appear particularly intimidating. She seemed rather gentle and somewhat shrunken behind her ominous black desk..."
Very normal looking Andy has no idea what she has gotten into. She thinks that perhaps doing one full year of "servitude" to Miranda will possibly boost her to The New Yorker. As it is, she really has no interest in fashion. Her clothes are from the Gap and she is heavier than all of the girls working at Runway.
E
ach morning she gets up after only sleeping a few hours and arrives before anyone else at Runway. Emily, her coworker, is now Miranda's top assistant and does the more important jobs. Mainly, they keep Miranda happy all day by ordering clothing, making sure she gets her meals, and brings or does whatever she needs. Andy is so busy that she rarely has time for anyone else in her life, except Miranda. And Miranda is not exactly nice to them. Not one thank you ever leaves her mouth and she is constantly giving orders to those around her. Unknowingly, Andy starts to become more like the models and other employees of Runway, although she tries her hardest to passively buck the system. Her relationship with her family, best friend, and boyfriend start deteriorating quickly.
Then Emily gets sick and has to miss the biggest event of the year; going to Paris with Miranda. She gets mono and Andy is told the week before they leave that she must go to keep her job. She flies out of the country after talking with her mother about how she had never even seen her little nephew who was a few months old now. A pivotal moment happens when Andy's best friend Lily is in a serious car wreck and must decide exactly where her priorities are. Was it really worth her health and the relationship of those around her for this job? After all...it's a job a million girls would die for...
"I'd strolled into Elias-Clark a clueless, poorly dressed little girl, and I'd staggered out a slightly weathered, poorly dressed semi-grown up (albeit one who now realizes just how poorly dressed she was). But in the interim, I'd experienced enough to fill a hundred just-out-of-college jobs. And even though my resume' now sported a scarlet 'F', even though my boyfriend had called it quits, even though I'd left with nothing more concrete than a suitcase(well,OK, four Louis Vuitton suitcases) full of fabulous designer clothes- maybe it had been worth it"
Andy Sachs is what we would consider a very normal 23-year-old these days. She is still not quite an adult. She has never had a serious job and never felt the need to make money to pay for her own place to live and her own food. This would be her first time out in the real world. She has a very sweet boyfriend of three years who is always looking to do good. And Andy is somewhat selfish and blind to what goes on around her. Her best friend Lily is a good example of this. Andy starts working for the worst possible boss ever to get ahead of the job market she will be in and because of her boss's crazy idea of an assistant, she chooses to put that, and her own wants, over her friend and others. Lily had become a raging alcoholic, bringing home all types of guys to have one night stands with. Apparently Andy just does not want to see how dangerous Lily has become to herself. She was a mess. Until the car wreck, Andy keeps denying it to herself saying that was just what college kids did. Her relationship with Alex becomes almost non-existent because she spends so much time working. But then again, perhaps it was not meant to be in the first place? That itself is a good question that is just not answered in this book. Andy's sister has a baby in the book but she isn't there when the baby is born and it's months later when she finally meets her nephew for the first time.
Runway is full of under weight, very tall, and beautiful models and employees. Everyone wears brand name clothing and accessories. No one eats carbs or fatty foods. That is except for Miranda. She is the only one besides Andy who eats things like that, but Miranda is still stick thin. Everyone there looks at Andy like she could stand to lose weight and do something about her wardrobe. And I suspect that Andy was already closer to the edge of being underweight for her height, if she wasn't already. Instead of feeling healthy, Andy starts thinking about whether she should be eating what she is and ends up dropping weight anyway (part of it due to the sheer fact she had little time to eat and was exhausted constantly). And she eventually caves in to the pressure to look and dress like everyone else. The real clincher to the whole Runway look is when there is a letter that comes for Miranda from a young teenage girl who is not happy with her body and wants to look like these anorexic models.
I

n

the end, it all comes down to how much you are willing to give up

to get where you want in the career field. Andy gave up almost a whole year of her life and although it ate away at her relationships and she ended up getting fired for telling off her boss, it did open up some job options for her. But is a job like that really worth it?
"It had taken eleven months, forty-four weeks, and some 3,080 hours of work to figure out- once and for all- that morphing into Miranda Priestly's mirror image was probably not such a good thing."
*image via Lauren Weisberger
*quotes via Lauren Weisberger