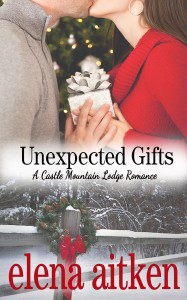 A
ndi Williams didn't like Christmas. Call her a humbug if you like, but all it reminded her of were families. She felt like Christmas was mostly for kids and families. Not for people like her who were alone. Her mom was off on a cruise and her dad just dropped the bomb that they he and her stepmother were taking her 3-year-old twin brothers somewhere else for Christmas. That leaves her all alone. As a party planner, she and her best friend, Eva, stay pretty busy this time of year. But they got a promo for a lodge up in the mountains and Andi really wants to leave normal civilization behind for the Christmas holiday. What she doesn't plan on is not having a room when she gets to the lodge and a very handsome Colin Hartford offering to share his villa with her since there was basically a snow storm happening. Colin was a friend of her ex fiancee', but they definitely weren't close due to past circumstances. Neither Colin or Andi are looking for a relationship, but their mutual attraction is unmistakable and Colin is determined to change Andi's mind about Christmas. If only he knew the truth behind her reasons.
T
his is not a very long book, but it is sweet. It has a very holiday feel to it and would be great to read this time of year. It is a complicated romance between two people with a very complicated past. For it to be a shorter book, it packs a lot of complication in. But it's a good thing! It makes it interesting. What I didn't like? Well it's no epic romance, but it's a good romance. Also, it seems like the catalyst happens at the very end and just when they are in the thick of things it suddenly ends and the book is over. You never know much about how Andi and Colin's relationship plays out. Andi's ex, Blaine, isn't a very rounded out bad guy. He's not nice and that's that. Andi makes it seem like he might not have been that bad, but he is very clearly an awful guy without too many sides to him besides that.
I have a very hard time rating this one because it isn't a 4 star book and it really isn't a 3.5 stars either. It is so very close to being a 4 star book, but it's not. So the only thing I can do in good conscience is to rate it 3.75 out of 5!